Well! I have just finished watching the delightful
Bleak House.
Last autumn I had the pleasure of listening to the book — thirty hours+ long and worth every minute of it. I had forgotten some parts of the book and enjoyed going over it again. Indeed, in looking up the wording of favorite quotes for this post, I got caught up in reading over parts again. It would be a long and tedious post were I to include everything I smiled over or thrilled to, but I give you
this link
, my readers, and encourage you to explore it for yourself. Better yet,
read the book
.
But our business today is primarily with the movie. Without further ado,
First of all, you should know I don't do summaries. To summarize a Dickens novel would take a book itself. (There are upwards of twenty important characters, depending on how you count.) But if you aren't familiar with the story, I shall attempt to provide some background for this review.
I also found Jo, the crossing boy, different than I pictured but not a bad actor. Mr. Snagsby, the law stationer who befriends Jo, didn't seem to come into the movie as much as the book, but he was perfect. He coughed and said "not to put to fine a point upon it" just as a Mr. Snagsby ought to.
There is a shocking lack of pictures of Sir Leicester on the internet. Several with My Lady in the foreground but, search as you will (I did), none of Sir Leicester Dedlock, Baronet, clearly shown. You'll just have to take my word for it that he looked the part.



Tulkinghorn was just as cold, compassionless and cruel as any Tulkinghorn ought to be. He is not one of those characters you hate and also kind of feel bad for. He is not one of those villains you secretly like. So I can't even say "I love Tulkinghorn (referring to the actor)." I did not enjoy his screen time and wished he would just go away. That is exactly how one ought to feel towards such a man, so I think Charles Dance did his job.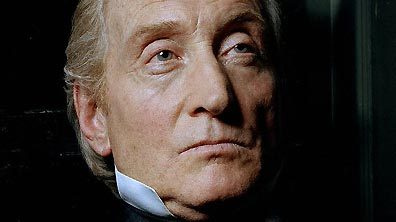 Not to put too fine a point upon it, but Lady Dedlock's mannerisms — the way she moved her head, the curious way she pursed her lips (pictured below because I can't describe) — seemed to fit her character very well. Of course she was gorgeous as My Lady ought to be.
I was pleased with Caddy and Mrs. Jellyby, the Turveydrops, Sergeant George (I love him, actually), Phil (tacking off, as usual), Krook (disgusting sort), Alan Woodcourt and Miss Flite. Poor Miss Flite, for those who haven't read the book, also has an endless suit in Chancery. ('The one great principle of the English law is, to make business for itself,' you know.) She keeps a lot of caged birds and says that when she has a judgment in her case she will let them all free. One of her quirks is not wanting to tell their names, which

are
Hope, Joy, Youth, Peace, Rest, Life, Dust, Ashes, Waste, Want, Ruin, Despair, Madness, Death, Cunning, Folly, Words, Wigs, Rags, Sheepskin, Plunder, Precedent, Jargon, Gammon, and Spinach.
Nemo/Hawdon seemed to have more movie time than he did in the book. It seemed like he was basically introduced and then died, in the novel. But as he ends up being an important part of the story, I suppose the movie people thought we ought to have some clue who the guy was before killing him off.
Gridley, on the other hand, had hardly any screen time, but what I saw I liked. Vholes was not how I pictured him, but he was well played and, again, they kept his little mannerisms like mentioning his daughters he had to support and calling Rick "Mr. C".
Smallweed was even MORE disgusting than the book! Still humourous, though. "Shake me up, Judy!"
Harold Skimpole is a very interesting character whom I have yet to entirely figure out. At the conclusion of
Bleak House
the book, my opinion was that he
was
of a childlike mind, but he could have endeavoured to be more thoughtful. After watching the mini series, I now am drifting more towards the opinion that his manner is entirely put on. What do you think, readers? Is Harold Skimpole a selfish, lazy man who takes bribes, or just a child in grown-up's skin?
The events were mostly kept the same, but of course the order was at times rearranged a little. I noticed two changes the most.
*SPOILER*
I did prefer the way Jarndyce's proposal was done in the book.
"Is this the mistress of Bleak House?"
I liked his letter, assuring her that if she said no they would never mention the subject again, etc.
*END SPOILER*
I also thought that the ending scene at the end was kind of... Hollywood. I mean, sure the movie goes like to see familiar faces. But really, would you
*MINOR SPOILER*
actually invite Inspector Bucket to your wedding? Harold Skimpole? Mrs. Rouncewell is a nice lady, but Esther doesn't even
know
her.
*END SPOILER*
All in all, as a book to movie transfer, I'd give it five stars.
I'd just like to make a note about the way this movie was filmed, because I think the style was very interesting. Sometimes the camera would move, like a person's eye might. When switching scenes to Bleak House or Chesney Wold they would flash several different angles of the house. And finally, when two people were in conversation they often filmed a person with some small object close to the camera, partially obscuring their face.
This is a very poor picture of Mr. Smallweed, but you can see the effect.
I did feel that the film was sometimes too dark physically; I found myself trying to brighten my screen several times when it was already all the way bright.
Otherwise, there was nothing overtly modern, but to the untrained eye like mine it's very easy for a film to throw in an 1820s bonnet with 1840s dress and a man in an 1850s frock coat. So I will simply comment on the aesthetic appeal, which was great. :) (I do apologize for the poor quality of photos following; there are very few pictures available on the web.)
Honestly, I could have done an entire post just on costumes. If I had to choose just one character's wardrobe I would take Esther's. However, my favorite dresses are some of Lady Dedlock's.
Ada's wardrobe is composed of a lot of plaids, generally on the brown spectrum.
(I'm really not at all qualified to comment on the finer points of the styles in this film; as mentioned above I know very little about the period. So I'm just pointing out details I like.) The bottom two dresses seem to be cut on a similar style: buttons up the front, loose sleeves coming to a narrow cuff. I like the lace edging the neckline on the left. But I also like the slightly more elegant look of the green-gold upper left dress, with the very fitted bodice and narrow sleeves. However, my favorite of Ada's dresses is the floral one (pictured above); the style almost reminds me of something from the 1770s. I love the sprigged pattern.
The only one of Ada's I actively dislike is her birthday dress.
Once again, I don't know much about the 1850s in dress, but both the material and the sheer sleeves on her dress just looked so... costume.
Here we get a look at another of Ada's brown dresses (with her hair down, I might add), as well as a nice view of one of my favorite of Esther's.
Esther's dresses tend to be more in the grey/blue palette. You don't have to know me long to know this is basically my wardrobe. :P Her dresses are for the most part simple but beautiful.
I love the grey/purple color of the bottom right dress, as well as intricate details on the bodice. The two blue dresses on the left side are typical of Esther's wardrobe. She had one or two others in a similar style. I like the upper left best. The bodice and sleeves seem to fit her figure very well, and the lace stands out against the simple cut.
I'm not sure if anyone else noticed this, but after The Illness, Esther started wearing her hair differently. Instead of all neatly but elegantly pulled back, during the second half of the mini series she always seems to have these side curls which I'm really not a fan of. Notice the difference between the upper left above and the lower left.
She also wears this lovely green one several times. It's cut in a similar style as the blue grey one (shown above, with Ada) she also wears frequently. I like the shorter sleeves and the buttons up the front.
Lady Dedlock has a large wardrobe in several colors: red and green predominately, with a touch of black and blue.
On the far left, she has sheer sleeves similar to Ada's birthday dress. Once again, I'm not a fan. However period it may be, to me it looked fake.
Lady Dedlock has at least two dresses she wears when traveling or going out.
However, one of my absolute favorites of My Lady's is this pale blue grey costume below. I just love the lace details and the beautiful bodice. (You also get a look at another of Esther's dresses, not one of my favorites. Once again, a nice blue fabric, but I don't like the large open sleeves. In the "Character" section above, you can see the front of this dress.)
Sidenote: I also really like Lady Dedlock's hair (the same in all scenes), except for this tiny curl that hangs down in the back on her right. It always kind of bugged me.
Three more of Lady Dedlock's:
That concludes my overall thoughts on the costumes. All three women had even more ensembles (and I didn't even go into Mr. Turveydrop, Miss Flite or Mrs. Rouncewell), but I hope I gave you an idea of the visual side of the film.
So what do you think, readers? Is Mr. Guppy creepier than he was in the book? What is your opinion on Harold Skimpole? And given the choice between Ada, Esther and My Lady, whose wardrobe would you take?